Pablo Zabaleta has enjoyed some amazing battles with Manchester United down the years as part of City's team but Saturday's win clearly meant the world to him.
The veteran right back has been in fabulous form and played a huge part in the 3-1 victory which set us on our way to Brighton on Friday brilliantly.
And afterwards he told the official site: "It's a great moment when you beat Manchester United. The West Ham United fans have been waiting for a first win at London Stadium, with a great performance. I'm a West Ham player so I'm happy for West Ham fans."
He continued: "We needed the first win at home. We were so unlucky not to win against Chelsea. We knew today was a great chance for us to get that first win.
"Obviously, how the team is playing at the moment from the beginning of the season is completely different. We're playing with so much intensity and defensively we look very solid and very dangerous going forward. It was a huge win for us today."
Saturday's result means West Ham are now unbeaten in their last four games, and Zabaleta has pinpointed the moment that saw the Irons discover their true form.
"I think that win against Everton was a key moment for the team. It brought confidence and in this league, you have to play every game at 100 per cent.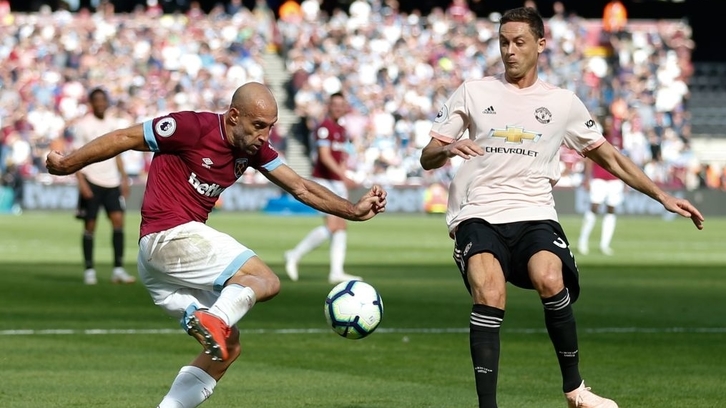 Image via www.whufc.com
"Sometimes when you're winning or on top, you just need to keep the ball. We did that and it was a good performance. That is the way we want the team to play in every single game."
Zabaleta added: "That 4-3-3 formation seems like it's working for us at the moment. I think the midfield, with Declan Rice, Mark Noble and Pedro Obiang, gives balance to the team.
"Then, going forward, we have Yarmolenko on the right, Felipe Anderson on the left and Marko Arnautovic up top. They are very dangerous going forward. They've got pace and can hurt defences, and us at full-back will try at times to help with attacking.
"When we haven't got the ball, it seems like everyone is in the right position. We looked solid against Manchester United, and that is what you need."