My admiration for Pablo Zabaleta is well known and has no boundaries.
I still believe him, at 35, to be the best full back at the club and despite the natural slow down in his movement he remains as reliable as any of the others at the back by and large.
Yes, of course he's going to get found out at times and yes, of course we need either Ben Johnson back fast or a decent No 1 which I'm not sure is the case with Ryan Fredericks.
But in the meantime the Argentine is doing a quite excellent job for David Moyes and deserves all the praise in the world.
He looks set for yet another appearance tomorrow night at Leicester which will be his third excursion in 11 days – one heck of an achievement at this level at his age.
Zaba is always worth listening to in his assessment of the team's situation and is now concerned about the chances being missed up front.
"There's still room for improvement, but I think the best thing we can do as a team is to take our chances in front of goal," Zabaleta told Premier League Productions and quoted at https://www.whufc.com/news/articles/2020/january/21-january/pablo-zabaleta-success-stems-being-clinical. 
"We have to be clinical because all the games we've won home or away are because we've been like that: relentless in front of goal. It gives us a chance to win football matches.
"Hopefully we can improve on that and, of course, defensively we've improved in the last few games. We need to try and not concede goals; keeping clean sheets is important for our team."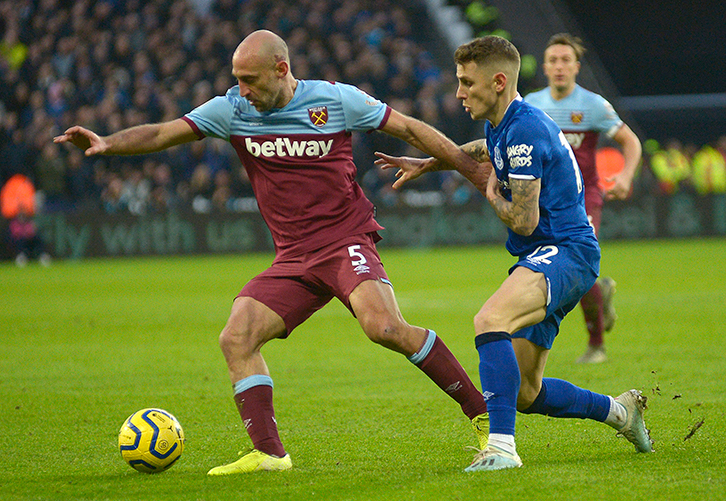 Image via www.whufc.com
"I think our focus now is on Leicester on Wednesday night. It's going to be a tough game – they are a great side – but I'm a hundred per cent confident that we have a good team to go there and get a result. Of course it's going to be hard, we know that, but we need to believe that we can get something from the game."
And of the Hammers boss he said "It's good to have David back. Most of the players we know him from his previous years here at West Ham.
"He's a good manager and a good person. He's a manager who's fairly demanding in terms of everyone having to do their jobs for the team, so it's good to have him back.
"I think what we need at the moment as a team is just a couple of good results to come from up from the position that we are in. We go into every game thinking that we are a little bit under pressure and must get a result. 
"You saw with Southampton, and some of those teams who were also struggling, that they won three or four games a row and now they are in a better position. It gives you more confidence to work with.
"I think a manager like David Moyes, with all his experience in football and the Premier League, knows what we need and what he has to do to bring the best out of all the players."