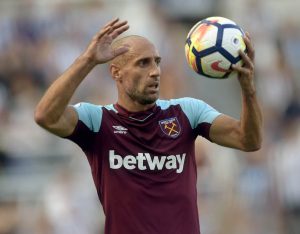 Pablo Zabaleta has reminded his team-mates their fate is in their own hands and that they have to rely on other teams' results.
The near ever present right back has declared that "the key is to come into training every day, work hard and prepare physically and mentally."
He added: "The pressure is always there, whether you're playing to win the league or to avoid relegation. The saying goes that 'We play as we train' and that is so important for us, every day of the week, to come to Rush Green, train well, look after ourselves physically and mentally prepare ourselves for games, because we need to win.
Looking ahead to the weekend he said: "It's definitely a must-win game against Burnley, who are a good side. They have already got to 40 points and they will look to win one more game to be 100 per cent safe, so it's not going to be easy, but we need to play well and we have good players who can produce a good performance on Saturday."
we find ourselves in a situation where we are not the only team fighting against relegation. We are one of about seven or eight teams, or perhaps even more, with only three to six points between them, which shows how difficult the Premier League is. It is so competitive.
"We are all in a situation where we have to pick up points if we want to be safe as soon as possible and be a Premier League team next year, but the good thing is that it still depends on us.
It's not like we're in a situation where we need to rely on other teams' results. Of course, when the bottom three drop points it's good, but at the end of the day we need to win our games to make sure we can be in a better position.
"We have two big home games coming up now with Burnley and Southampton and we need to win against those teams."