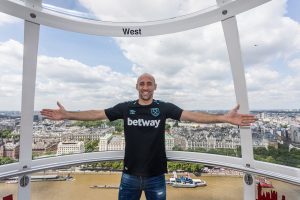 Pablo Zabaleta is a Hammer who speaks from the heart who  became a cult hero at Manchester City for that  reason along with maintaining the highest playing standards.
And he knows precisely what's at stake as the Irons go into the game being billed as the most critical of the season against Stoke and why the fans inside the LS are as important as the players.
Speaking as the build-up to the game begins he said: "Stoke is going to be another massive game for us, Monday night in front of the home fans They have been massive for us, I hope they can be as good as they were against Southampton.
"We need to win this game, it's huge. We need to keep playing this way and keep winning games until the end of the season.
"For us we have our own ambitions. There are six games to go until the end of the season and so we need to perform well enough to at least get a point in all of those games and see how we can finish this season."
We need to go game by game and if we can make it by winning the next game against Stoke that will be a big step forward toward being safe."