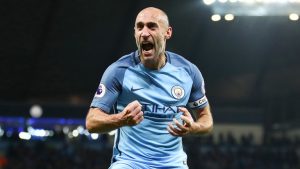 It may be too early to be making too many serious observations about the new season but one thing is crystal clear, Pablo Zabaleta looks the most inspirational character we have had on a Hammers squad for some considerable time.
There was a moment during the game against Werder Bremen when he was the victim of a wild tackle and his response was immediate – he confronted the 'perp' in no uncertain manner and  was a frightening sight.
But beyond that his poise, experience, wonderful defensive and attacking abilities and constant availability at the back,  we can mark him out as a real captaincy challenger in my book.
Now, I don't think Slav is going to take the armband off his favoured Mark Noble but even at this stage some are questioning the midfielder's regular presence in the team this season.
When everybody is fit Mark will be under as much pressure as anybody else with the exception of such as  Zaba, Chicharito and Lanzini.
Cheik Kouyate and Pedro Obiang will be very hard to keep out and Josh Cullen is another very potent threat to Mark's position.
Zaba is under no such threat from Sam Byram who, whilst looking to have grown up this summer, cannot get ahead of the Argentine on a regular basis.
In my book that makes Zaba a serious contender for the armband and I'd be surprised if at the very least the thought hasn't crossed the manager's mind.
He looks a real leader, his experience is vast and I can't imagine his attitude on the pitch isn't being replicated off it.
COYI