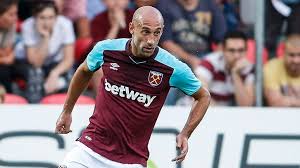 Pablo Zabaleta has slammed Andy Carroll and branded after his double elbowing at Turf Moor as 'nasty.'
The Hammers right-back has had no hesitation in joining the attack on the big centre-forward who now misses the match against Brighton and Hove Albion on Friday.
Carroll got the rocket from Zaba for the elbows on James Tarkowski and Ben Mee which left us battling with 10 men for over an hour at Turf Moor.
Zaba fumed: "I think Andy's challenges were a bit nasty. Andy is a big man. He always goes 100 percent for the ball in the air.
"From my point of view, it looks aggressive, especially the second one when he knew he was on a yellow already.
"We need to try to play 11 v 11 for the whole game, especially when you are winning 1-0.
"You can't give an advantage to the other team.
"We were 1-0 up and we need to be a bit more clever in these situations."