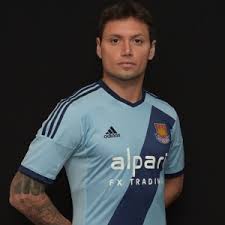 Mauro Zarate has pledged his support to West Ham and Sam Allardyce!
The agent Luis Ruzzi claiming to be Zarate's agent told the Italian media: "At West Ham he plays behind the strikers and that is not his position,
"He is a centre-forward and if there is a team out there willing to let him play in his natural role, then we will be very happy to consider it.
"Mauro is often used out of position by the current coach (Sam Allardyce) and this is pushing him to seriously consider changing his club."
However, Zarate tweeting to nearly 20 thousand followers declared a few minutes ago on Twitter: "According to recent news articles i would like to inform that I have no agent and I never said that I wanted to leave West Ham.
"West Ham will keep progressing. The manager is doing a great job and has my full support!
And he followed that up seconds later with an emphatic: "Come on you Irons!!!"