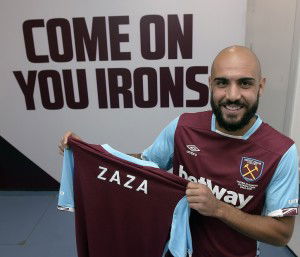 West Ham has officially confirmed the signing of Simone Zaza and the finances included in the deal.
Zaza will cost £4.2m (€5m) fee, with a permanent fee of £17m (€20m) automatically triggered after 15 or 16 Premier League appearances this season plus a further (£2.5m) €3m in performance related payments totalling £23.8m.
Because the deal is calculated in Euros that amount could well increase if the pound further weakens against the Euro.
Zaza is said to have been on just £1.5m  per year with Juventus which is around £29,000 per week.
Figures being quoted suggest the Italian will earn £68,000 per week basic at West Ham on par with Dimitri Payet and, like Payet, his wages can be boosted by large appearance bonuses, goal bonuses and other team success criteria bonuses which in theory could bring his wages as high as £100,000 per week.
This means we could end up investing another £26m in wages over the next five years which together with the transfer fees could reach £49.8m total investment.