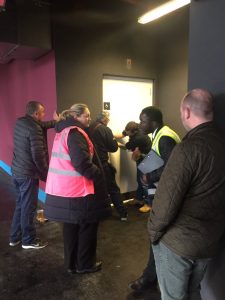 London Stadium stewards will be actioning a new Zero Tolerance policy on the misuse of accessible toilets this evening at the league cup game against Bolton and Saturday's lunchtime game against Spurs.  Able-bodied West Ham Supporters have been misusing disabled toilets at halftime for smoking and to avoid queues at peak times at other toilets.
Complaints were raised at the recent West Ham Disabled Supporters Advisory Board and the club's and stadium operators immediate response is to bring in a new tough policy of ejection from the stadium if any fans caught smoking or misusing the accessible toilets.
Unfortunately, only fifty percent of the accessible toilets in the London Stadium have radar keys to prevent general access by able-bodied supporters.
A source close to club told Claret and Hugh this afternoon 'We want to get the word out about this policy, supporters have only got themselves to blame if they are caught smoking in a disabled toilet and end up getting ejected by stewards at halftime. We have had multiple complaints about this problem from disabled supporters and it is only fair we support them"