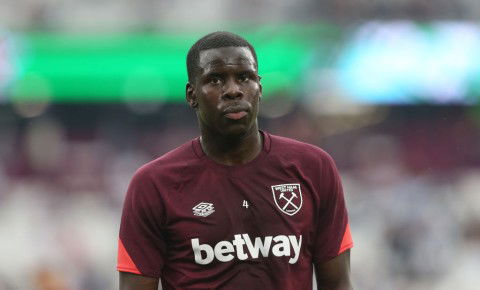 Kurt Zouma may have aggravated his knee injury in the warm-up against Leicester but is expected to be fit to resume first team action after Qatar,
The France international has had to battle through serious knee problems, dating back to his time with Chelsea.
Zouma initially sustained the injury in the warm up but he was trusted to start the game, which the Irons lost 2-0.
He a report from injury specialist reporter Ben Dinnery claiming  Zouma may have sustained a reoccurrence of the injury woes that have plagued him in recent years is not a view shared by West Ham insiders.
Speaking to GiveMeSport, Dinnery was asked about Zouma's injury and replied: "It's that risk and reward scenario. The decision was taken to let him go and play. We know, historically, he's had that problematic knee issue, so it looks as if it's reared its ugly head."
However, a key source inside the London Stadium said that although Zouma had felt uncomfortable in the warn up. the Hammers medics do not suspect serious problems
Zouma has not been included in the France squad for the World Cup and will instead focus on his injury recovery in London.