You've got to hand it to Mikey Antonio because having revealed in the past he has suffered depression the guy is always up for or providing  laugh.
He never gives anything less than his best and always available it seems for a prank or two so bet your life he is not gonna allow a virus – however awful it may be -to break his spirit.
We have all laughed at his crazy celebration routines. He has to sort if irresistible spirit we all need in these incredibly difficult terms. So glad he's a Hammer.
Even in the midst of the COVID-19 outbreak he is still finding ways to lift himself and those around him up as he demonstrates in his social media posts along with a recent FIFA match with Tottenham's Ryan Sessegnon
Today Mikey hits 30 years of old and is still doing his best to inspire people who – like him -are self isolating at home.
And speaking on a video call with BBC MOTDx presenter Reece Parkinson. he said: : "Exercise [during self-isolation] has helped me. Spending loads of time with the family."
And with a laugh he added: "But  obviously time with the family does get annoying as well!"
"It's just about trying to find other things to do. Read a book, set yourself little tasks each day. Just try and think of crazy things to do. 
"My missus is already getting annoyed at me because when I get bored, what I try and do is play tricks on her and things like that!"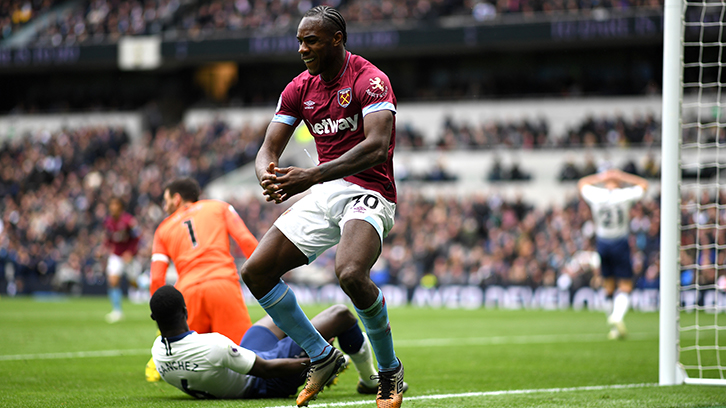 "[I do] the same things every day. I get up in the mornings – my kids are away from school, so we've got our home schooling going on. We do that from nine to one.
"I've been going and doing runs, but obviously when I'm doing the runs I'm making sure I'm staying two metres away from people. I go out, do my run for an hour, come back in, and that's the only time I leave my house.
"My kids have been doing that Joe Wicks P.E. thing in the morning! They've been trying to get me to do it – I'm like 'nah, I'm saving my energy for when I'm doing my run' – and then I go upstairs, do a bit of a steam, shower, nap, and then I'll be playing with the kids afterwards."
With all fixtures currently suspended until 30 April, Antonio is confident that – upon resumption – the Hammers are in good shape to further their recent momentum.
He said: "For West Ham, obviously, we've started picking up form in the last three or four games. As long as we keep ourselves fit, we can keep pushing on."