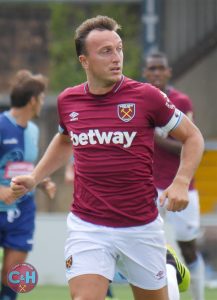 Marko Arnautovic's penalty strike yesterday may well have  marked a major turning point in Mark Noble's Hammers career.
There can be no reason in itself for changing spot kickers given the captain's excellent strike rate so the question of course is a very simple: "Why?"
The answer seems pretty straightforward and may have been helped by Noble's substitution on 77 minutes when being replaced by Luis Perez.
The strong word doing the round today follows Manuel Pellegrini's admission a couple of weeks back that whilst he will remain skipper, Nobes may not necessarily always be playing, is that this may be the start of the process.
With so many options in and around midfield – which for all that remains a worrying area – Noble can no longer be seen as a regular starter.
And it may well be that as a result Pellegrini has decided he must change his penalty taker should there be circumstances in which the captain is not available.