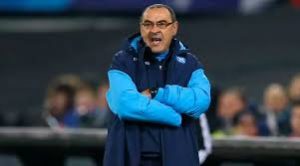 Chelsea boss Maurizio Sarri has warned his squad that West Ham's position in the Premier League "is not reality."
The 59 year old Blues boss has made a perfect five game start to his  Staford Bridge but is very wary  of the job facing him at the London Stadium tomorrow.
He rates the team highly despite us having just recorded just one PL win in five games.
He said:'I have seen the five matches of West Ham in the Premier League. I think they are a very good team.
'They changed in the last match against Everton, from 4-2-3-1 to 4-1-4-1. They played very well.
'I think the position in the table of West Ham is not reality.
He believes his job is made tougher by a schedule of matches which gives clubs involved in Champions League so little time between their commitments at that and PL level.
His preparations for the LS match have been disturbed by a late return to England after adverse weather affected his departure from Greece.
He said: "In Italy if you are playing in the Champions League you can ask to play the match before on a Friday or Saturday,' the former Napoli boss said.
The former Napoli boss didn't expect such an impressive string of results to his start in England but know he can certainly not take the Hammers lightly.