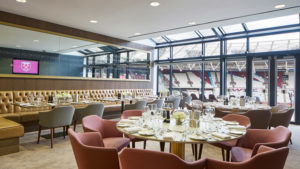 Club London Corporate Members feel left out of the recent renewal deadline change negotiated by the Official Supporters' Board (OSB).
West Ham general season ticket holders, away scheme away members and payment scheme supporters have all had their deadlines moved out but the corporate hospitality deadline remains the same on 17th April.
One Club London member called Stuart took to social media to ask West Ham on social media: "Anyone who has a lounge ticket found out about the 11% price rise one week after general admission and have a deadline of April 17th!!! was this discussed at all?"
Corporate members have been asked to commit to three years before the 17th April if they want to keep their hospitality lounge access.
Another Club London member called Andy Dennis also took to Twitter to say: "As a Club London member I just got a text saying if  I commit six grand to 3 years BY 5PM TODAY – i get entered into a prize draw for a tiny chance of a signed shirt – Now, where's my bank details. No Thanks !"