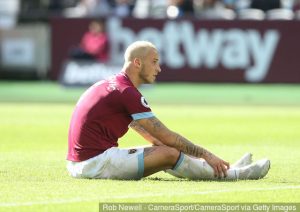 Hammer Marko Arnautovic has admitted he needs weekly injections to play due to an ongoing knee injury. The striker is in Vienna, Austria on International duty and took time to speak to Salzburger Nachrichten.
The report by the Austrian paper says the striker cannot concentrate on football at the moment because his left knee, which has been injured for weeks and still causes him problems. He admits he has regularly treated with syringes which presumably inflammatory injections.
Arnie reported told the local press: "I can not say if I'll get an injection on Thursday. In the knee, fluid accumulates again and again. Of course, there are people who say they should spare themselves and do nothing for a week, but it's just difficult."
It had previously reported Arnautovic was suffering from bruising on the bone.
"The knee is not the best, I'm fit, I can play, but I'm not training a lot, also at West Ham and I try to recover my knee," Arnautovic previously told Sky Sports.  "It's going to take some time, I've got some inflammation in my bone but I am always ready to play on the weekend so it's just one of those things. Obviously after a game, I need some rest, like two or three days, but then middle of the week I am training normal with the team and training full and on the weekend I play, that's the most important thing.
"Obviously you can't do anything on this bone bruise, you can't change it, you can't do nothing, you just have to treat it good, you have to settle it down but I can handle the pain"
Claret and View view:
West Ham is so reliant on Marko Arnautovic for goals it seems incredible we can not afford for him to recover properly from his knee injury. In the last International break, a deal was done with the Austrian football association that he plays in one of the two international games but West Ham supporters will be asking again why he is taking the risk of more games and gambling with his knee injury by having further injections. With two international games scheduled someone needs to save him from himself and tell him to rest. I guess it difficult for the Hammers to argue he is unfit for international duty when they play him week in week out with his current problem. Let's hope he comes out of the current international break unscathed. Without completely writing the next game against Manchester City maybe he will be rested for that game.