Pablo Armero wants a long term Hammers deal!
The Colombian international made a big impression in the match against Liverpool at the weekend and has now got his sights set on a Hammers future.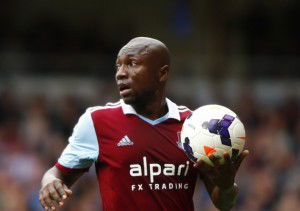 He said: It has been a while without playing, actually from the beginning, It has been very important for me to play.
"I thank God, my colleagues and the technical team who gave me the opportunity. I think I fulfilled what I wanted to do against Liverpool and I hope I can carry on enjoying the opportunites."
"It was more than Suarez I had to be careful of, It was about the whole Liverpool team. They are a great team and I think they did things right, but we also had opportunities."
Speaking to the Newham Recorder he added: "It is a new experience for me, but it is very good. I like it, It is very fast and exciting and I like how the crowd enjoy the games.
" I think it is thrilling and encouraging playing here and I enjoy it. Firstly, I think of West Ham and give the maximum result here. It is normal that as we are getting close to the World Cup, I like to keep pace and be in full capacity, I would like to have a good end so in the future have a new contract with the team."