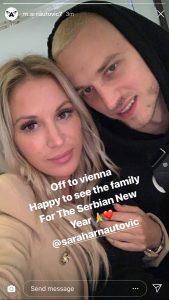 Pictures of Marko Arnautovic sitting in Heathrow lounge shortly after today's game went viral on social media with speculation he was about to hop on a plane to China. The mystery was soon cleared up by the player himself when he posted an Instagram photo of himself and his wife saying 'Off to Vienna, Happy to see the family for the Serbian New year'
A club insider revealed that all the first team players have until Tuesday morning off and a number of them were taking the oppotunity to jet away for short breaks and that supporters shouldn't read anything into Arnie's departure from Heathrow this evening.
Many supporters today thought the Austrian player seemed to be waving goodbye to fans as he was substituted at the London Stadium during the Hammers 1-0 victory over Arsenal. There was no strop today by the 29-year-old striker and Pellegrini patted him on the back before he pulled on a training top and sat calmly on the bench.