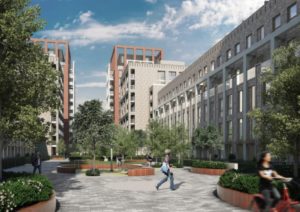 One of the remaining tower blocks at Upton Gardens is likely to be called Cantwell house if a Claret and Hugh poll is anything to go by.
Some blocks on Barratt London development where the Boleyn Ground once proudly stood have already been named in connection with the site's football heritage. Academy House, Arnold Hills House, Taylor House and Lyall House already refer to West Ham's history in Green Street.
West Ham fans have been asked to vote is on the name of one of the two centrepiece towers. Newham Council has been asked to name the other.  C&H Poll results: Noel Cantwell 202 (32.32%) Alan Sealey 193 (30.88%) Wally St Pier 156 (24.96%) Ted Hufton 54 (8.64%) Billy Bridgeman 20 (3.2%)
Hammer Noel Cantwell was an Irish international defender who is considered to be one of the key figures in the advent of the famed 'Academy' philosophy in the early 1950s. He captained the Hammers to winning the Division Two championship in the 1957/58 season, thereby leading the club into the top flight for the first time since 1932.
In November 1960, Cantwell joined Manchester United for £29,500 which at the time was a record for a full-back. He helped the club win the two league titles and captained United when winning the 1963 FA Cup Final. He also played cricket for Ireland and went on to serve as Chairman of the Professional Footballers' Association.
There is still time to vote in teh official poll at https://www.whufc.com/news/articles/2019/march/11-march/west-ham-fans-vote-name-residential-block-boleyn-ground-site