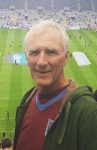 By CandH blogger Allen Cummings
There seem to be solutions and resolutions appearing by the day designed to solve the problem of the unfinished 2019-20 football season.
Who goes up and who goes down in a season that may never reach its natural conclusion is a huge dilemma for the football governing bodies. Maybe we need to go 'back to the future' for possible solution?
When football in this country last suffered such significant disruption to fixtures and consequently loss of games, it was mid-way through the 1963-64 season. Freezing fog enveloped the whole country three days before Christmas, decimating that Saturday's football programme.
Widespread snow quickly followed resulting in many games throughout January being postponed. The three major pools companies of the day, Littlewoods, Vernons and Zetters decided they had to act to save their businesses. The result was that on the 26th January 1964 the Pools Panel sat for the first time.
Three former England internationals, one former Scottish international, a World Cup referee and bizarrely perhaps, a former MP were recruited to sit in deliberation on the day's games.
Using their expert knowledge to decide upon individual results as they expected them to have played out. Their verdicts were for betting purposes only – with the actual games eventually being played out, once the season resumed normal service on 16th March.
We wont have that luxury this time of course, because chances are the end of the current season will be reached and passed before there will be any possible chance of a return to action.
No doubt today's advanced technology would be able to offer us a similar but more hi-tech solution, using the likes of super computers, digesting masses of relevant data for analysis, in order to offer up 'virtual' resolutions to games.
But the good old fashioned Pools Panel has a special place in football folklore. It worked once – why not again?