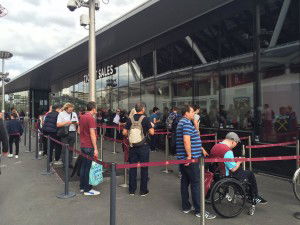 Chelsea away tickets will go on sale to bond holders at 3 pm this afternoon with season ticket holders with 30 priority points or more able to buy away tickets from 3 pm tomorrow.
With around 200 West Ham bond holders likely to exercise their option in priority in buying tickets, 700 away season tickets, a 200 Club London ballot, 300 in a general ballot and 100 reserved for players, staff and disabled around 1,500 tickets should be available for season ticket holders with high priority points.
With Burnley away recently selling out to season ticket holders with 19 points this London derby is likely to sell out to points holders who have amassed somewhere between 20-30.
For the first time supporters having secured away tickets, who are now unable to attend, may return their ticket/s  to the club for re-sale.
Any unwanted tickets can be returned to the Ticket Office, sent by Recorded Delivery to arrive no later than seven working days prior to the match whereupon, a secondary ballot will be undertaken.  Initial submitted applications will be used for this process and there will be no need to re-apply.  Successful applicants will be notified immediately, and tickets dispatched.