Upton Park's legendary hard man Julian Dicks has waded into the Hammers of 2014 with a no holds-barred attack.
'The terminator ' speaking on BBC Sport last night made it clear he simply wouldn't have what West ham fans are getting at the moment.
He roared: "Man City are a great side but the least you expect from your players as a supporter is to work hard and give 100%.

"It costs supporters a fortune to go to Manchester City and it was a case of players not giving a flying monkeys how they performed. The work rate over the last half a dozen games has been disgraceful

"We all have bad games and make mistakes but what you expect every single game is to give 100%. To watch some of them play is embarrassing.

"I cannot see a way how Sam Allardyce can continue, they got beat 5-0 by Forest and 6-0 at City and I can understand how the fans feel. The football is not good."

And former Manchester City defender Danny Mills added: "All credit to the West Ham fans they have been brilliant tonight.
The players have gone over and the fans would be within their right to not clap them but they have been bigger than that and I applaud them.
"Some of those players put more effort in going over to the fans at the end of the game than they put in during the game and that's what bothers me."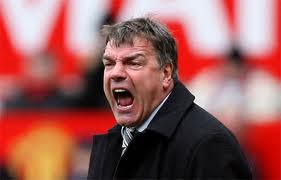 Sam Allardyce appears to be accepting the sack may be inevitable unless he can turn West Ham around very quickly indeed.
After seeing his team smashed into oblivion by Manchester City the downcast 59 year old admitted that such a situation couldn't be allowed to continue.
His backing by co owners David Sullivan and David Gold earlier in the week was rewarded with one of the most humiliating defeats possible.
And afterwards – as the fans became abusive for the first time in his reign – he moaned:  "It is life isn't it when you are not doing well – you get stick as a manager and I am getting stick at the moment.
"That is the way goes, that is the way this job is you take it on the chin and get on with it.
"We are not the first team to get beaten here by many, many goals and we won't be the last having seen Manchester City through this season.
Then he added the most significant comment of all saying: "But you cannot keep losing football matches, that is for sure, as a manager.
"You cannot think it will be allowed to continue. I don't want it to continue, that is for sure.
"We have to get those (injured) players back as quick as we can and we have got to not lose confidence in our own ability and get out of this hole we are in at the moment."
———-
James Tomkins has made his scheduled appearance before magistrates today after being charged in relation to an incident at the Sugar Hut nightspot on December 22.
The 24-year-old West Ham defender was answering assault charges in the Basildon Magistrates Court.
The Irons are reported close to agreeing terms to sign Inter-Milan's Ishak Belfodil. 
Some sources report talks have gone well and that the decision now lies solely with the player and that he is leaning towards joining us on loan until the end of the season.
Lacina Traore – the other target – could join him if the club is successful with a work permit appeal on Monday.