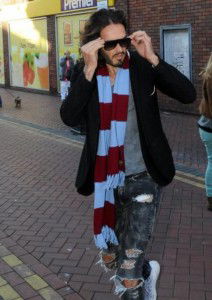 West Ham celebrity supporter Russell Brand joined Hammer's legend Tony Cottee on the Any Old Irons podcast to discuss how he's getting on in lockdown and all things West Ham.
Brand explained that he's based at his home in the countryside, just outside London, alongside his wife, two young daughters and two dogs, saying: "As far as things go I'm in a pretty fortunate position."
Brand commented: "Obviously everyone was West Ham out in Grays, Essex. You'd meet the occasional Spurs fan or Arsenal fan or even the North West Clubs who sneak down South to gather up fans but certainly the norm was Claret and Blue."
Brand and Cottee recounted their favourite players and their enjoyment of watching matches under the floodlights and with Brand noting that he was introduced to West Ham United by his father, Cottee asked him what makes him most proud to be a West Ham fan.
The Actor stated: "There's a romanticism, I think, to supporting West Ham. I think the fans are beautiful, the people that work at the club, Lesley, Babs, people that you meet behind doors running the hospitality or the players' lounge or like the people that you meet at the backstage areas of the club. There's a kind of sense of community, togetherness and a kind of bottled East End spirit.
"Because in recent memory we've not won anything, not since 1980 or something. There's a feeling that it's about the beauty of the game, whether it's yourself [Tony Cottee] or Trevor Brooking or Bobby Moore or Alan Devonshire or Paulo Di Canio, Julian Dicks, there's a certain spirit and that's what makes me proud."