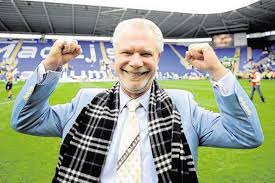 David Gold lives in and runs his multi-million pound business bang at the centre of Crystal Palace country.
Indeed at one stage he was close – with David Sullivan – to becoming the club's owner as he looked for a return to the game after his Birmingham City 'adventure.'
But when it became clear that the Hammers was on the market, that was the only show in town as far as he was concerned.
However, with so many of his employees huge Palace fans he's delighted the Eagles' Premier Leaguer future is now assured.
And he admits there's been some serious banter going on between him and them this season!
He told ClaretandHugh exclusively: "I certainly have a soft spot for them but tomorrow is all about three points for ourselves. Yes there has been the odd words between me and some of this all season!
"I'm delighted that we now look safe and Palace the same but we need a win. Our boss Sam and Tony Pulis are cut from similar cloth – they know what's required at this level.
"And after difficult periods in the life of both clubs this season it's great that they both look like like competing at the highest level next season."
"We have so many Palace fans working at the firm it would be pretty heartless if I was to say I wasn't happy to see them in the position they now occupy.
"It's all the more brilliant because it looked so unlikely. Both clubs have come through some real trials this season  but there's only one team only mind this weekend -West Ham United."