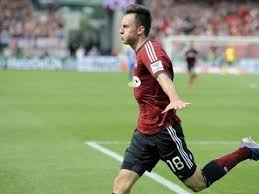 German football legend Lothar Matthaus has claimed that Hammers striker target Josip Drmic will join Arsenal this summer.
Sam Allardyce has scouted the  Nuremburg front man who has scored 16 goals in 32 appearances this season, and Matthaus but Matthaus is adamant he will join the north Londoners.
The 53-year-old is reported to have told Blick: "Although now Dortmund, Gladbach and Leverkusen also have interest in him. I'm saying: Josip Drmic will move to Arsenal."
Originally when claiming that was the case it was rubbished after he claimed he saw his wife looking for an apartment in London and the outlying areas.
But he now declares: "I made a mistake. I said his wife was already looking at apartments. The fact is that this is his girlfriend. Drmic has a girlfriend of nine months. She lived five or six months with him in Nuremberg.
"Look, if a journalist hears something, he researches and writes about it. I'm kind of a journalist at Sky and have heard the rumour of a move to Arsenal.
"I then found out that this is true and he's going there. So the research is clear."