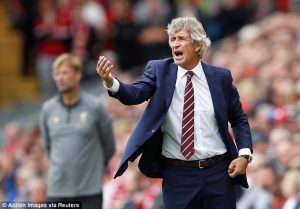 West Ham boss Mauel Pellegrini has told the squad and players to forget all about the supposed Everton injury list for the match on Sunday.
Reports have circulated all week that The Toffees have 12 either out or receiving treatment but the news has clearly left the Hammers boss cold.
Speaking at his pre-match presser he said: We don't know what happens with Everton and who or who isn't injured for them. We will see how many valuable players will not play on Sunday.
The thing that can help West Ham will be to play well, to not lose so many balls, to have a high pace during the whole game and to have the players working well with each other, because we have a lot of new players, to adapt our mentality to play in a different way.
There are a lot of things that can help West Ham more than worrying about which Everton players are injured.
We are just thinking about Everton. When we are finished with Everton, we will think about what we must do against Chelsea.
It is important that we add points soon, but the pressure will be the same whether we are winning or not winning, because my own pressure is the same, which is to improve as a team, improve as a club and to play well, but if we do not add points, then that pressure will be high."