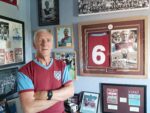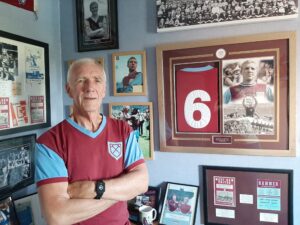 By ClaretandHugh's top blogger Allen Cummings
Nikola Vlasic has been something of a 'slow burner' since his surprise arrival from CSK Moscow at the end of the summer transfer window.
But on  Thursday night our Croatian international turned up the heat with a performances that was his best by far in a claret and blue shirt.
His link-up play down the left with Arthur Masuaku was excellent. He looked solid on the ball, was committed and determined in his running at defenders and of course it was his perfectly weighted deep cross that set up Andriy Yarmolenko for our first goal.
Vlasic looked lively all night and clearly grew in confidence as the game went on. The icing on the cake would have been a goal – and but for Said Benrahma choosing to shot instead of making a simple pass Vlasic would have got his just reward.
When Nikola was substituted in the 78th minute for debutant Sonny Perkins, he left the field with a huge smile across his face, in the realisation of a good night's work.
It was noticeable too David Moyes was equally delighted as Vlasic made his way to the bench – the manager exchanging pleasantries and a congratulatory pat on the way.
It was a timely performance from Vlasic because there had been noises that the manager might have got this one wrong – suggestions even his purchase was a panic buy.
It was certainly an unexpected arrival, Nikola's name hardly featuring amongst the pleather of players we were being 'linked' with at that time. But a panic buy? Not in my opinion.
Strange that accusation should even be aimed at the manager really – since not too long ago he was being accused of dithering. But that's football fans for you I suppose.
Moyes surely would have been monitoring Vlasic, off the radar as it turns out, assessing his ability, and his suitability to fit into the squad of players he's putting together.
Has Vlasic taken West Ham by storm in the way Jesse Lingard did? Of course not. Truth is there is more of a similarity with the way Said Benrahma was introduced to the team – in a gradual fashion.
But that's as much to do with how well the first 'team' have been playing together as anything else. Up to now Vlasic has been used sparingly, mostly in cup games, to give others the chance for some respite. Thursday against Rapid Vienna he showed he could have more than that to offer.
At 24 years of age he's got time on his side. He struggled at Everton under a manager who maybe didn't appreciate him. That happens to even the best players at times.
He re-built his confidence and reputation at CSK Moscow – which in turn earned him a place in the Croatian national side – so he must have something to offer. If anyone can bring the best out of Nikola Vlasic – to the benefit of West Ham – my money is on David Moyes to do it. L
et's give Vlasic a full season at least before we judge – take in the bigger picture – then decide.