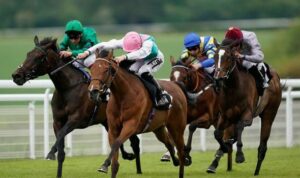 Hopes are growing that live sport will be back on the TV within days but sadly it won't be football.
The British Horse Racing Authority claims it can be ready in a week and although there's no word yet, news that racing resumes in France from next Monday has given much hope.
France has been in a tougher lock down than any other European nation over recent weeks but France Galop president Edouard de Rothschild tweeted: "We obtained and received from the Prefecture de Police de Paris the authorisation to resume racing on May 11. This is very good news and a real victory!"
Olivier Delloye, chief executive of France Galop, admitted his relief at clearing that particular hurdle saying: "I was very much relieved by the news we got this morning."
In Britain Horseracing Authority's boss Nick Rust says the sport, suspended since 17 March, does not expect special treatment in the current crisis but said: "We can be one of the first to go."
With the number of deaths down to 288 today – the lowest for weeks and new infections falling – there is now more hope that football can get underway again but the neutral grounds problem remains its biggest stumbling block.
And with the players also set to vote on a return that too could be another hurdle the game will be unable to cross easily.