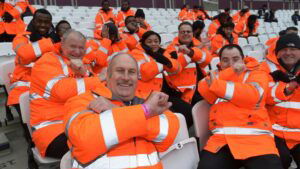 Casual match day staff who work at the London Stadium on West Ham games can receive the government handout it has been confirmed.
The stewarding, security and catering staff who are sub contracted by London Stadium owner LLDC are mostly on zero hours contracts but are still eligible for furloughing.
Any employee can be furloughed as long as their work has been severely affected, they are on PAYE and the employer hired them before 28th February 2020.
Employees can be on any type of contract, whether that be zero hours, variable hours, part time or full time.
If the worker's pay varies because they are on a zero hours contract, then the 80% limit will be based on the same month's earning from a previous year, or their average monthly pay during the 2019-20 tax year – whichever is highest.
LLDC sub-contract casual match day staff to Delaware North, G4S, Wise Security, Expedia and CSP.
Last month an LLDC spokesperson speaking to Claret and Hugh said: "Unlike several football clubs who own their venue London Stadium does not directly employ any casual match day staff. Contractors provide the stewarding and catering staff and they will make their own arrangements taking in to account their own obligations and any packages of help from the Government. Our suppliers are important partners and we will continue to work with them as this situation develops."