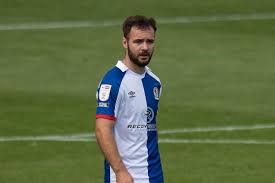 Blackburn Rovers boss Tony Mowbray has told reported West Ham target Adam Armstrong the club can't stop him moving to the Premier League if that's what he wants.
This isn't the first time Mowbray has made it clear that the player could be on his way out of Ewood Park knowing their is interest from Premier clubs.
The 24 year old has had a phenomenal season with 25 goals in 41 games and a summer move looks vey much on the cards.
Mowbray made the right sounds alongside his message aimed at certainly giving the impression that he wants to keep the striker.
But with David Moyes a big operator in the Championship during  transfer windows it would be absolutely no surprise were he to be interested in making a bid.
In reality the Hammers probably need two strikers with Mikey Antonio probably a 20 game a season player with his hamstring problems.
With a year left on his contract at the end of this season Rovers look likely to accept a sensible bid for the player.
In the meantime Mowbray can do nothing to discourage bids for the prolific hitman whilst encouraging him to consider staying at the club.
He said: "If, in his stomach, he wants to go and play in the Premier League and he wants to do it now, we're not really in a position, financially, to stop that",
"My advice to Adam, when I've been sitting down and chatting to him, would be that there's growth for him here he  told the Lancashire Telegraph..
"He has to ask himself; 'is he going to start in the Premier League, play all 38 games and score 20 goals in the Premier League, now?', I would suggest, maybe not.
"My suggestion would be that he should stay here, sign a good contract, enjoy playing every week, score another 25-30 goals and keep learning the game.
"He's still a young lad and it's not as if his career is running away from him and the time's winding down."