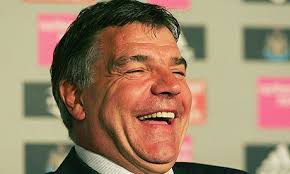 Every week I write a Hammers blog for www.london24.com which in my opinion is the best site for Irons news.This week we again address the issue of Sam Allardyce.
Here's the blog in full: 
By Hugh Southon
I don't think I can be the only one who has noticed a newer, softer and more fan friendly Sam Allardyce since the team scored a magnificent third victory over Spurs at the weekend.
But given the enormity of the win and what it may mean for his position next season that's not very surprising I guess.
He had finally relaxed and with a careless arm thrown around TV pundit David Ginola's shoulder discussed the fans as a "great bunch who let you know when they aren't happy."
During the days since, he has spoken about improving the team and playing entertaining football which probably wouldn't have happened had it not been for website polls – one involving 16 independent sites – claiming he was providing the opposite.
The outcome was that 78 per cent of those voting wanted him gone and thus, maybe, the charm offensive appears to have started. Call me an old cynic if you like but this is – after all – the first time I've ever heard him talk in these sort of terms.
That we are still discussing Sam Allardyce at a time when we have beaten the deadly enemy three times in a season and secured our status at the top level may seem extraordinary to many neutrals. I believe a better word is "significant!"
Sam has regularly claimed that the 'direct football' tag is a perception attached to him because his name happens to be Allardyce which is an odd argument.
Somewhere along the line we all earn a reputation based on our attitudes and actions. Sam, as a football club manager, is absolutely no different.
I have a lot of sympathy for David Gold and David Sullivan who, whichever way you look at it, have performed an admirable financial job following the carnage inflicted by the Icelandics.
And the 'friendly' loans pumped into the club by Sullivan which have eased so many of the worries about the club's future are an extraordinary act of faith and belief.
The club cannot afford to plunge back into the Championship and until now the Davids have insisted that Allardyce is the safe pair of hands to ensure they don't.
The counter argument of course is that 17 other managers have managed to remain in the Premier League without playing the type of football which many apparently believe to be so unacceptable.
And that in itself raises perhaps the biggest question of all for those of us who witnessed that  wondrous end of season home game against Tottenham.
For this was a game which saw the team set up to attack, attack and attack again from the very first whistle and the result was an inevitable.
So one has to ask, given the level of performance when adopting such an approach, why have we all had to wait so long for such a development – it has to be said that fan pressure may have had much to do with it.
Too often – even in the February purple patch – we have seen the team set up at home as if they are playing away and nicking the game on the counter.
West Ham fans down the years simply don't accept that kind of game as a matter of course but know enough to understand that occasionally it may be required.
Sunday sees Sam return to the Etihad and who would – in this extraordinary season and given the nature of the Title race this last couple of weeks – be surprised were he weren't to come away with something.
Should he to manage that, I'd imagine he would have to be safe. But I don't believe one win from the last six – albeit against Spurs – would in any way guarantee a 'Carry on Sam ' vote at the end of season review.
Interesting summer ahead!