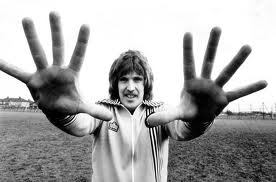 Phil Parkes talking exclusively to Claret and Hugh
Hammers legend and all round nice guy Phil Parkes has told the Premier League to pull the plug on the season RIGHT NOW.
And he has recalled the 1985/86 season when the Hammers were forced to play NINE games in a month – a scenario which the PL want to adopt as a way to end the season.
And the greatest Hammers goalkeeper of my lifetime said: "In normal circumstances we would have won the title – instead we came third."
Bad weather and quagmire pitches saw the Hammers build up a back log of games which the League insisted they finished on time but Parkesy said: It was a total nightmare travelling all over the country to play them.
"We were entirely knackered and had we not been in that situation I'm pretty certain we would have gone on to win the league."
These circumstances couldn't be more different. What's happening is entirely horrific with so many deaths – football is meaningless and the League should end it now.
I can't believe they are hanging on and on. Nobody cares much about the game. We need to stay absolutely safe. It's all about self preservation
Football? Just forget it. If they play behind closed doors we've did that too and it's awful – home advantage is blown out of the window.
Social distancing won't allow fans inside stadiums so those talking about the 'integrity of the league ' being preserved need to realise there is no integrity in ending a season in which so many have died and clear dangers still exist.
From a footballing point of view there is no proper way to end the season anyway so all  the 'integrity' argiments go out the window.