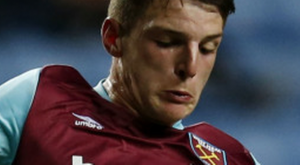 Declan Rice – along with Lukasz Fabianski – was again the stand out performer for the Hammers during the debacle that was Everton last night (Sat).
And if there are any who have the right to have a right to have a good moan-up it is him and the skipper.
Given the all round deficiencies of a strange looking team it was hardly surprising the defensive midfielder wasn't  seen to his best effect.
Yet he still caught the eye with his range of passing and breaking up the play often single handed against a rampant Everton.
Mind you 'rampant' only because the Hammers were as lifeless and seemingly disinterested as we have seen them all season which would include the first four defeats of the campaign.
Pelegrini denies all suggestions  the squad has gone on its holidays and Rice was furious with the overall performance when interviewed with www.whufc.com explaining his views in very explicit terms.
He said: "It wasn't good enough for us from the first minute to the last. Everton could have had five of six goals. We were too slow, too lethargic and they were first to every ball.
"We didn't even create a chance – that sums it up, we lost and didn't get the three points to get to seventh.
"It's been an up and down season. We had a bad start, then gained some form and it's been like that. 
"With the squad we've got we should be [aiming for] seventh and every chance we've had to move seventh we've lost and ruined that opportunity. We need to do better."