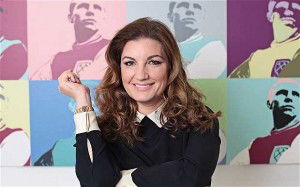 West Ham Vice-Chairman Karren Brady and Chief Financial Officer Andy Mollett hosted a crunch virtual meeting with Mark Noble and first-team players last week before Friday's statement.
The video conference and virtual presentation laid bare the dire financial position that the club is facing and why it was imperative that West Ham players help out by deferring a percentage of their wages.
The West Ham board are thought to have wanted players to defer 30% of wages in line with a Premier League while others suggested a lower amount.
Brady and Mollett told the players they themselves were taking a 30% pay cut from their basic pay and David Moyes has also agreed to take the same cut.
The exact percentage of the pay deferment of the Hammers wages remains confidential under the terms of the agreement although Claret and Hugh understand it is somewhere between 20% and 30% of their gross pay each month with a guesstimate of 25% being mooted suggesting they met in the middle.
With a monthly payroll of £10.4m, West Ham could save as much as £3m per month or £9m over three months.
The deferment of pay is just that and all players will have that percentage paid back to them in full in the future so the agreement is akin to loan from the players to the club.
The deferral is on top of a £30m cash injection from the shareholders and a deferral of interest on shareholder loans.
A club insider refused to discuss specifics of the meeting with the players by saying "Everyone has been in constant dialogue which has led to a collaborative club approach to the situation"