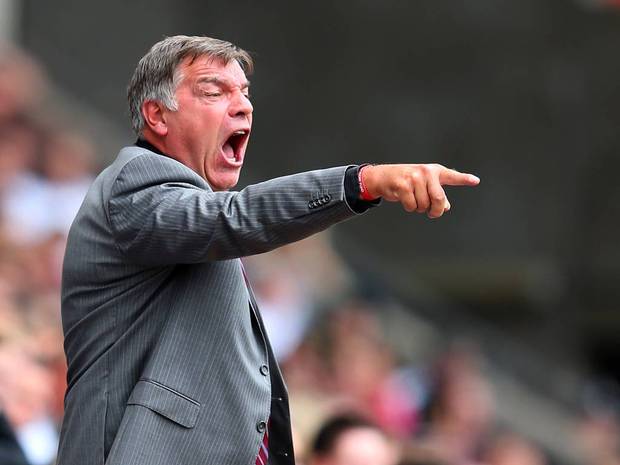 Sam Allardyce has lashed out at the knockers who have taken a pop at his claimed negative tactics and described the lack of praise for his players "sickening".
His 'cupping of the ear' after Hull and the continuing aftermath  of criticism has – it seems – given the 59 year old boss the right hump!
A return to the Premier League at the first time of asking, taking them to a top half finish last season and now to apparent safety this one might have been expected to win the fans over.
But as is reflected in the ClaretandHugh poll on him they are instead split right down the middle over whether he should stay or go presumably because many are irritated by the direct approach.
He said when asked about the team's style: "Well you see, it's all a load of bull. I think that it's all about the perception and the reputation of Sam Allardyce, not the West Ham players and how they play. It's all perceived to be like this and nothing else.
"It is a load of rubbish and I can't help that. It's unfortunate for the players because this particular period of time, when they've achieved six wins out of nine matches, they get little or no praise for it and that's really sad.
"We've had our best run of results but nobody's talking about it. They're talking about a one-game scenario when people are booing because we've won against 10 men. It's life I suppose, but it's quite sickening to be honest."
League-leaders Liverpool visit east London on Sunday, with Allardyce questioning why recent results have not warranted more praise for his squad.
He added: "They got slaughtered in December because they were losing football matches and now they're performing some of the best results they've performed since we got back in the Premier League.
"It's top-six form and that's what we should be talking about, not talking about the type of football that we play because we play a type of football that suits the players, that's entertaining and it's winning.
"The game is about results – that's a fact. If you don't get results, you don't keep your job. If you don't get results, you get transferred.
"It's a results business, an entertaining business, and you try and put both together as often as you possibly can."