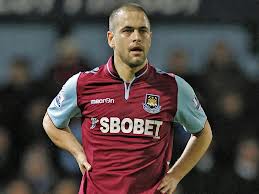 Sam Allardyce has dismissed Joe Cole' possible worries over having to sit out a new contract offer declaring: "He's got no choice, has he? He's contracted to us."
The winger has made just 13 league starts since rejoining the club on a free transfer in January 2013 and is one of several players who are out of contract in the summer.
But Allardyce insists Cole and the rest of them will have to sweat it out before knowing their Upton Park fate.
ClaretandHugh was told several weeks ago that the 32 year old will be allowed to leave and has a huge offer on the table from the MLS.
Allardyce though was in no mood to give anything away officially adding: "Like all the five others, the agents ring us up all the time, but if I start with one, then I'll have to do everybody.
"At this stage of the season, the last thing I want to do is be distracted by agents or contracts and talking about money saying, 'That's not enough, this is enough, I want that, I want this or the other.'
"Keep playing, keep the club in the Premier League, play well when you are in the team and that strengthens your case at the end of the season if and when we get safe.
"It's not just Joe Cole. Five or six others are at the end of their contracts and we will decide on them if and when we are safe.
"At the moment we don't know what league we are going to be playing in. We hope it's the Premier League, but let's wait and see.
"In today's football, everybody says this player is a cheap one, but then you find at the end of the season that he's only played two games. He's not that cheap, then. He's expensive.