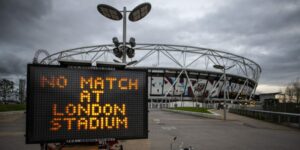 Claret and Hugh have learnt that all West Ham staff directly employed by the club are being paid their full salaries while games are postponed, this includes all club retail and ticketing staff
All club employees are working from home and being paid in full. Presently no West Ham staff have been laid off or made redundant.
The Club says their main priority in these unchartered times is keeping their staff, their families and supporters safe and they are working really hard at measures to support business continuity despite the challenges that being unable to play Premier League football for a period of time naturally presents.
The Club is working closely with the Premier League who, together with all professional football bodies in England, announced recently that they are united in the commitment to finding ways to resume the 2019/20 season. The FA's Board have also confirmed that the 1 June deadline for the season to be completed has now been extended indefinitely for the 2019/20 season in relation to professional football. We have also collectively agreed that the professional game in England will be postponed until no earlier than 30 April. This is a decision is supported the club because it is necessary at this time and they will all they can to play their part which, in the long term, could help to save lives
While West Ham will not play matches again until 30 April at the earliest, they are committed to keeping the Club running as best they can during this time and ensuring that the impact upon their staff and their families is as minimal as it can be The Club are also supporting requests from West Ham employees who wish to join the hundreds of thousands of people volunteering to help the NHS at the present time.
The club says that health, safety and wellbeing of their staff and families remains their absolute priority.
Well done West Ham!