Pablo Zabaleta is anxious that after a shocking start to the new season the hammers continue to experience "the same old problems."
Zaba had a great game against Bournemouth and was at the heart of most good things the Irons managed to produce but afterwards he made it clear he's not a happy bunny.
Speaking to West Ham TV he said:  "We've not had the greatest start to the season. Today was our first home game, in front of our fans, and we were positive for the game. We were thinking today was a good chance to get three points, but we had the same old problems.
"I think, psychologically, we need to change a little bit as a team. I thought we had a good 45 minutes. We were good, we were intense. But in the second half we didn't have the same intensity, and we gave them the chance to score goals. That is what we have to improve on this season.
"We cannot be afraid when we are winning. We need to carry on playing in the way that we did in the first half."
He added:  "I thought we played really well at times. We kept possession and we created a few good chances and we didn't give them many chances to play. It was only one chance for them in the first half.
"In the second half, we dropped our intensity and this is the worst thing you can do as a team in the Premier League. We gave the ball away very easy and we should have done a lot better. We didn't create much and without the ball we weren't defensively strong enough.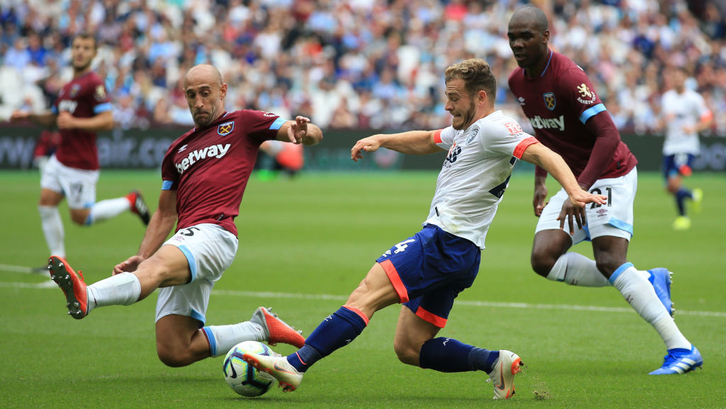 "As a team we need to improve, but it's not about individual players or mistakes. We need to get on with it together. We've got experience from last season. We cannot concede so many goals."
Zabaleta knows the size of the challenge facing him and his teammates on Saturday. and said: "It's another tough game away at the Emirates but there's still a long way to go.
We cannot put ourselves in a situation where we don't believe in what we are doing. We are working well in training but we've got so much room for improvement.
"We need to be positive. We have a new manager, new players, and a new style of football. It takes times. But as players we need to take responsibility because on the pitch, we make the decisions."