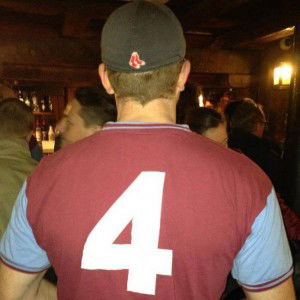 Rich Sprent was born and bred in Plaistow. Chicken Run STH. His first game back in '79. #deluded and occasionally #overchuffed, he reckons quite rightly any WHUFC win over Sp*rs should be worth six points. Here he explains why the 442 brigadehave got it all so wrong! 
Every game it's the same. An hour before kick off in the pub I read out the Irons line-up off Twitter. Then I  hear: "One up front again! It's SO negative…"
If the boys get an audience it'samplified in the pub and I get it in full on the walk to the Chicken Run. Any chance of reasoned debate on the merits of NOT playing 4-4-2 is out of the window by then.
And so, for the Boys in the Black Lion and those who sit by me in the Chicken Run (and everyone else who has joined in bemoaning why West Ham don't play 'two up top') here's a different view:
Since the last World Cup the reliance of managers on 4-4-2 has diminished drastically. The resurgence of Spain as a world force built on Barca's tikka takka principles virtually closed the coffin lid on England 's favourite formation. The know-it-all TV pundits claimed that it was a Dark Ages tactic.
This Premier League season has further seen the lid nailed all but shut. Fulham, last season, played a relatively successful 4-4-2 . However, this season only Manchester City have lined-up and played effectively with anything close to a traditional meat & two veg 4-4-2 .
Now, with the business end of the season fully in play, Negredo has been spending time on the bench as Citeh strut their stuff with Yaya, Fernandinho and Silva over-running everyone's midfield.
Other than the Mosside Billionaires, that elusive and much missed second striker is only seen traditionally employed by Hull.  Jelavic and Long working as a partnership with the last named chasing no end of lost cause channel balls. Two up top but Bruce's preference is 5-3-2 .
Liverpool are very fluid and Sturridge is often found out wide. They are so fluid that at times it's difficult to see what formation they are actually active in. It certainly isn't a traditional 4-4-2 when they play. The forwards and wide men all switch. It's beautiful and mesmerising to watch.
Sherwood bucked the formation trend on taking over at Sp*rs. He lined them up 4-4-2 for the first few games. When the first top four side appeared that second striker was relegated to the bench. He hasn't been seen in the starting line-up since.
No-one plays two in the middle of the park anymore. That extra midfielder is usually at the expense of the second forward. There are those that can play attacking midfield and support the front man. Those pundits have designated them as 'No.10's'.
So why is this the case?  Why don't teams play 4-4-2 ?
Cruyff explained that the fixed lines of 4-4-2 does not lend itself to passing triangles. The current popular variation of 4-3-3 has two centre midfielders with three fluid attacking midfielders giving a W shape in midfield. 4-3-3 gives a team plenty of options with interlocking triangles all over the pitch to keep possession and turn defence into attack.
4-4-2 struggles immediately in a possession game against ball players in a team with three centre midfielders. Immediately outnumbered, the 4-4-2 team is totally reliant on disciplined hard pressing,  keeping the space between the two banks of four tight and of course an effective partnership up front. That partnership needs to be dynamic, prolific and to be able to hold onto the ball to allow others to come into play.
Against a team with so many ball players roving and passing in never ending interlocking triangles, it is exhausting and requires high levels of discipline.
Think back to Sacchi's Milan side. They pressed all over the pitch as a team. They were well drilled and when not in possession they never let more than 30yrds stretch the team from the centre forward to centre back.
That amazing side gifted possession to Real Madrid in a European Cup semi-final. Milan crushed the Spaniards 5-0 despite having low possession stats in the game. Of course that was 20 years ago and 4-4-2 is very rarely seen on the continent since.
The greatest irony is the persistent call by West Ham fans for a second striker, to play 4-4-2 in an age where the whole world plays a variation of 4-3-3 .
It's now a footballing world where the best teams use that very West Ham Way innovation of interlocking triangles and overlapping fullbacks. It's those very teams who use such dastardly means to defeat the opposition as: keeping possession to create openings through passing and moving.
West Ham's current midfield options hardly contain much pace. Noble, Nolan & Taylor are very pedestrian. Noble lets the ball do the talking. Nolan is about the late runs. Taylor , well, he IS having resurgence in the middle. But he's a blocker rather than a ball carrier or dribbler.
So why is it that West Ham fans demand 4-4-2 on such a consistent basis?
'But it's only one up front at home. It gives the other team an immediate lift.' It's a common complaint heard around me in the ground and in the pub pregame.
The true irony is that by playing 4-4-2 with our current options would leave the midfield outnumbered and inevitably overrun.
And with a team having to constantly press so hard to gain possession, the escape ball would inevitably be a long channel pass for the second forward to run wide to chase down and collect. That or the long pass up to the centre forward for him to do wonders with.
Without a team filled with footballing pacy strong athletes who can also run all day, possession would sadly and predictably be surrendered time and time again. And the ball would inevitably spend even more time in the air than it currently is.
The true complaint should be that the Manager does not set up his teams to play in interlocking triangles. The fullbacks do not regularly overlap unless a suitable amount of superiority has been achieved or we are chasing the game.
With better and pacier players then our variation of 4-3-3 # 4-5-1 should naturally evolve into a more progressive manner of attacking football. It really should.
So,  still want 4-4-2 ?
If you do, be sure what it is you are wishing for. If you think it's Hoofball now…