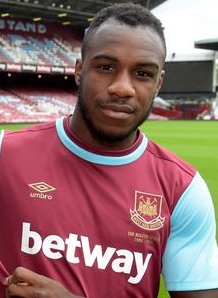 Michael Antonio is feeling quite at home England declaring:  "I've settled in quite well and the boys have taken to me really well.
"It is just nerve-wracking a little bit because I didn't expect this so early in my Premier League career."
"I said 'Ha, funny'. He said 'No, seriously.' I said 'good banter' but I looked at him for a good 30 seconds and he looked at me.
"I wasn't sure I could take him seriously but he showed me a piece of paper (confirming the call-up) and after that I started welling up inside. All I wanted to do was call my missus. Obviously she didn't pick up!"
Michail has met England boss Sam Allardyce revealing: "When I first came and spoke to the gaffer I said I was very grateful for the opportunity, he said 'there is no need to be grateful and that if you look at your stats and what you have done, you deserve to be here'.
"But obviously I'm very grateful and I just believe that I need to make him proud and show everyone out there that I have got the ability and I can do it."
"To pick someone like me from my background, it is a risk but the gaffer has shown his belief in me and now I have got to show it to the world. One thing I have always believed in is to never give up.
"Always have belief in yourself that you can achieve things. Anything is possible in life. Once I reach one target, I always search for another and I went from non-league to Reading. I kept going out on loan because I wasn't getting much time at Reading.
"Then I went to Sheffield Wednesday and then Nottingham Forest and I managed to get to West Ham, where I always wanted to be – the Premier League. Then I said to myself 'become an international'. Now I've done that, I've got to set myself a new target now.|
"I hope I can keep doing what I have done in the Premier League and take it onto the international level."