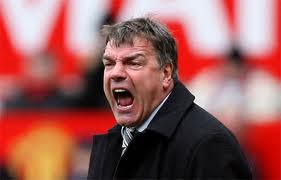 Sam Allardyce is again taking a nervous look over his shoulder after the disappointing 3-1 defeat at Stoke today.
The West Ham boss snapped after the game: "There are nine games to go, and our points per game are diminishing again. We've played 29 games and only got 31 points.
"That cannot continue, we have to keep more points ahead of our games total and do that to try and secure our Premier League position as quickly as possible."
Looking back at what might have been he said: "Sitting there after 60, 65 minutes we were thinking we've had the opportunity to get another goal and we haven't quite taken it.
"Kevin Nolan's one was offside obviously and Andy Carroll had a great chance as well. We had them on the back foot in the second half, and the wind was helping us, which was very powerful today.
"All it needed was the back players to continue to concentrate on defending correctly and we'd have eventually got another chance to score, maybe taken it or if not come off the field on a 1-1, but unfortunately our defending let us down in the second half.
"We didn't need to defend very often either, so it's very upsetting that I didn't see the defensive side of our game come together today, when the attacking side was a lot better than it was against Everton.
"There was a lot more chances, a lot more creativity, a lot more pressure on the opposition, but two shocking defensive moments have cost us the game, as well as the referee not giving us a penalty."
And he appeared to rue changing the team saying: "I changed the team around today, one to try and freshen the team up, two to bring some of the players in to show they can deliver, like the lads have delivered before. They'll be looking at me and saying we've lost the game 3-1, so why did I make those changes.
"I'll have to say that I'd tend to agree with them after that, because had we kept that solidity in the the defensive unit that we normally do I believe we would have got a point at least .
"I know the referee has probably taken a goal away from us [by not awarding a penalty for Marc Muniesa's second half handball] but it's still no excuse for the defending for two goals we conceded in the second half."
Allardyce explained: "We were saying at half-time let's use the conditions to our advantage, which we did because Stoke found it hugely difficult to get out of their own half. When that's the case you can keep probing and putting pressure on the opposition.
"When you put pressure on the opposition constantly they end up making a mistake. That mistake happened and fortunately for them Begovic got away with it.
"When he came so far out and mis-punched the ball, he just went a yard or so ahead of Kevin Nolan. Had he not done that. Kevin would have been onside for that goal, so he was fortunate to get away with that one."
So the Irons continue to look over their shoulders with just six points between them and the bottom three and the manager warned the job is not yet done.