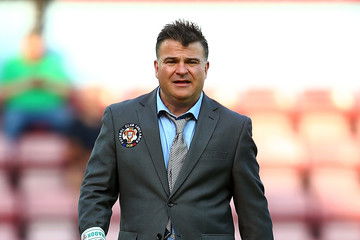 Slaven Bilic was delighted with West Ham winning his first game in charge but was blasted by opposite
number Xavi Roura (
right)
after the Hammers ran out 3-0 winners over Andorran minnows FC Lusitans.
Roura claimed Bilic showed " a lack of respect " for not taking a seat in the dug out preferring instead to watch from the stands.
"Slaven Bilic showed a lack of respect for not taking his place on the bench. I am disappointed with with him and I feel a club from home of football and fair play should have insisted he sat there," said Roura.
"I know he has won a lot of titles but not sitting on the bench  ; who does he think he is ? The Special One ?
"Would I expect him to sit on the bench in the game in Andorra next week. Yes he is the Wrest Ham coach."
Terry Westley, the Hammers development manager, who was on the touchline instead
laughed off
Roura's blast and revealed Bilic, who flies back to the Cork training camp on Friday morning, would NOT make the trip to Andorra for the second leg next week.
He said: "He can't be at two places at once. He has  alot of work to do with the first team squad .No he won't be in Andorra.
At this stage of the Europa Cup the Hammers are using a blend of first team players on their way back to fitness and emerging young players.
Westley added: "It was always going to be this way.
He only flew in from Cork in the morning having been with the first team but Slaven was in the dressing room before the game and gave a team talk.
"He also presented Page and Oxford with their debut shirt and made a little speech that they were now following in the footsteps of men like Moore and Hurst, Lampard and Ferdinand and told them now it was down to them to build their own legacy.
"After the game he was pleased with the outcome. His experience as national coach of Croatia means he knows how tough teams from Andorra can be.
"Look how long
they held England 0-0 a couple of years back and recently Wales only beat them 2-1."
Westley insisted he was happy with the outcome saying: "I guess 4-0 with no injuries would have been ideal, but 3-0 with no serious injuries
…Zarate had a slight knock …was good and the chance to bring one some more  Acadamy players from the bench which we were able to do. So it went pretty much to plan."
And Westley's
verdict on 16 year old Reece Oxford : "He did
ok. But no more than ok. Early on he got caught on the ball
and he was passing too much across people but this is what he needs – a bit of toughening up.
Of Diego Poyet, Westley added : "He showed some composure and good positional sense but he needed
to make more killer passes, to
find the wide men with one sweeping pass rather than it take two
or
three passes with other for him
to get it there."