If Mikey Antonio isn't ready then it could be down to Jarrod Bowen to produce another top-level centre forward performance against Spurs on Sunday.
The right-sided midfielder proved the answer to the No 30's absence last weekend showing that he could be a big problem for the north Londoners and showed he could a real job if called upon.
There's no new word about Antonio who if fit is bound to be a terrific threat to the Tottenham defence which hasn't always been at its best this season..
But Jarrod has made it clear that his only aim – wherever he plays – is to see the squad remain in the top five and ensure this season gets better and better.
Speaking at https://www.whufc.com/news/articles/2021/february/20-february/jarrod-bowen-victory-over-tottenham-would-show-we-are-not he said: "Sunday is another opportunity for us to get maximum points and stay in the top five. It would show intent from this group and what we are about, we are not to be taken lightly.
"We respect Tottenham and know they're a good team but on the other hand, we are also a good team who are doing really well. We want them to fear us. It's a game of intent to show what we are about."
"This season, the results and the performances speak levels about us," he explained. "I don't think we are too surprised [about the position we are in], because we know the quality that the manager wants, and we've all bought into his philosophy.
"Right now, it's about winning as many games as we can and keeping performance level high. The group we've got here is such a tight-knit group, so when things don't go well, we are all here together and when things are going great, we are loving it.
"We knew how important it was to win [against Sheffield United] the other day and when we came off the pitch we looked straight at the table to see we were fourth in the Premier League and it's where we want to be."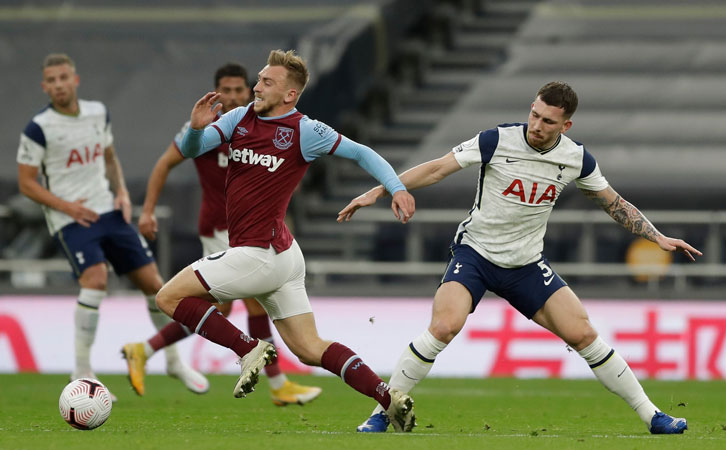 While victory on Sunday would ensure West Ham remain in the top five for another week, at least, and would provide a further boost to everyone associated with the Club, Bowen said it would be all the sweeter if supporters could be present at London Stadium.
He said: "Obviously it's difficult with no fans. I remember speaking to Dec [Rice] when West Ham beat Tottenham away in the [new] stadium and they said the atmosphere was electric away, so to miss it at home, I can imagine the place would be bouncing on Sunday. Especially with the football we are playing.
"We miss them all more than anyone, we would love them to be with us week in week out on the pitch, but we know that the fan base that we have are watching on their sofas. They're going to be screaming and jumping up and down for the successes we've had this season, and hopefully we'll have another one on Sunday, which we know is a big one for the fans."