Rumours are circulating within the London Stadium this evening that Jarrod Bowen has taken a knock in training .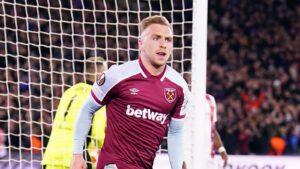 However, Sky Sports are reporting live that he has been away from the training ground feeling unwell for a couple of days.
The No 20 has been left out of the squad for the Euro League game tonight and we will of course be checking it out as soon as possible.
Word was that he was due to appear this evening and should he have been injured or poorly that may account for Mo Kudus' first appearance in a Hammers shirt.
Hopefully whatever the problem with Moyes he will recover for the crucial clash against Liverpool on Sunday.
That remains to be seen but we will be on the case after the game in a bid to find out exactly what – if anything – has happened.
The most anticipated event of the evening will be the performance of the much vaunted Kudus.