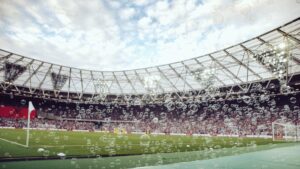 West Ham has been given permission to play their Bubbles theme song and use bubbles machines at the London Stadium this Saturday.
The Premier League protocols mean all top-flight clubs must be treated the same and have the same opportunities as a level playing field. That means other clubs could also use bubbles machines if they so wished!
However, club mascots with Bubbles the bear will be missing along with ball boys and West Ham flag bearers.
Bubble machines will need to be operated remotely with very limited personnel allowed in the red zone during matches.
West Ham will display a large fan mosiac in the Billy Bonds stand in the shape of a popular West Ham image.
The club is yet to announce how they will choose sixteen supporters for their live Zoom fan wall on the big screens.
The Hammers will not be deploying cardboard cutouts in the lower stands like Brighton who offered cut-outs at £20 a time.