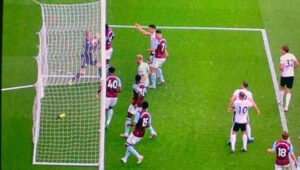 The failure of Hawk-Eye goal-line technology this evening could be very costly to West Ham at the end of the season.
The technical blunder allowed Aston Villa to earn a valuable point and that point could make all the difference between relegation or survival to one team at the end of this season.
Sixteen to eighteenth places in the Premier League are only separated on goal difference with Villa just one point behind in nineteenth place on 26 points.
Hawk-Eye has issued an unreserved apology to Sheffield United and explained why the goal was not given.
A statement on Twitter read: "The seven cameras located in the stands around the goal were significantly occluded by the goalkeeper, defender, and goalpost.
"This level of occlusion has never been seen before in over 9,000 matches that the Hawk-Eye Goal Line Technology system has been in operation.
"The system was tested and proved functional prior to the start of the match in accordance with the IFAB Laws of The Game and confirmed as working by the match officials. The system has remained functional throughout.
"Hawk-Eye unreservedly apologises to the Premier League, Sheffield United, and everyone affected by this incident."
West Ham players themselves were quick to ask questions on social media.
Declan Rice said "Wait… i thought this is what VAR was brought in for ?!? Blatantly over the line????"
While Aaron Cresswell asked "What's going on here???? VAR? Goal line technology? 🥴🤷🏻‍♂️"