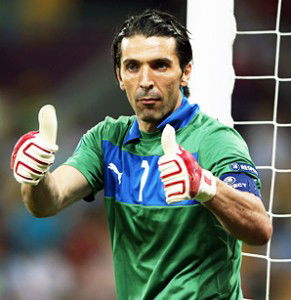 Juventus goalkeeper Gianluigi Buffon revealed in his book  that West Ham United is one of  five teams that he wanted to play for.
Buffon was declared by Pele to be one of the 125 greatest living footballers in the world.
He has been named the Serie A Goalkeepr of the year year a record eight times and was the winner of the 2006  Yashin Award following Italy's World Cup victory. 
Buffon is the only goalkeeper to have won the UEFA club footballer of the year award.  He joined Juventus from Parma for £32.6m in 2001. He will  be in goal again for Italy for his fifth world cup.
Giving a reason why he wished he signed for West Ham he said:
"West Ham: Because of the supporters: I knew the West Ham supporters during my time as a supporter (Ultra): those guys (West Ham supporters) follow the Hammers with an extraordinary energy. And because of the logo (Symbol): Two crossed hammers. Almost communist, if I think about it"