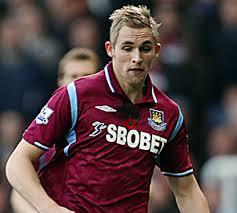 Jack Collison knows what its like to be where Andy Carroll has been these last few months having missed over a year recovering from a long term injury.
And he's being doing his bit to support the newly bearded centre forward as he gets closer and closer to first team action.
Opening his heart before the huge game at Manchester United this afternoon he said: " "Andy looks as though he is not too far away and his return will be a massive boost for everyone.
"He's taken a bit of stick for growing a beard but fair play to him for getting himself back after what he has been through. I've experienced what it's like to have a tough, long-term injury and what it takes to get back.
"Andy has worked morning, noon and night to get back training again. We don't want to put pressure on him but he's a fantastic talent and he will make a massive difference to our team."
Collison, 25, battled back from a knee problem that sidelined him for 14 months up to May 2011.
He added: "We are a very close group of lads and we've all been there to help pick Andy up when he has needed it in his dark days.
"He knows I've been through it so we've had a few chats. I think he just knows he is going to come back and start scoring goals again.
"You only have to watch him back out there on the pitch in training, you can see the hunger and desire in his eyes.
"He's been a massive miss for us and looks determined to make up for lost time."