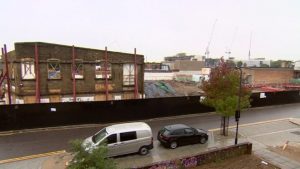 Residents of Hackney Wick close to the London Stadium have been complaining of headaches due to vile odours coming from a construction site in Wallis road close the Queen Elizabeth Park and the London Stadium.  The London Legacy Development Corporation (LLDC) has told Telford Homes to stop work until a new plan to "manage the site" was approved.
Hackney Council confirmed the smells are caused by the site's "hydrocarbon contamination, including benzene and naphthalene". The council said it was "very concerned" and encouraged the LLDC to seek advice from Public Health England.
The Stone Studios site is an old architectural metalworks business that is being converted into luxury flats by developer Telford Homes.
A previous environmental report found the site has elevated concentrations of arsenic, lead, and asbestos fibres.
The LLDC said it "imposed strict planning conditions to manage the safe removal of contaminated land" from the site.
A spokesperson for the body added: "We are reviewing the developer's revised plans to manage the site works and work to remove the contaminated materials can only begin once those plans have been approved."
The site in question is close to the White Post Cafe which is popular with West Ham fans before and after match days.