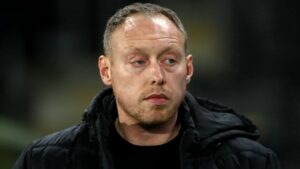 By Hughie Southon
Reasons to celebrate the Hammers victory are legion after the season we have suffered and nobody should take anything away from the squad who performed admirably.
On an afternoon that was as much about Bobby Moore than anyone else the lads tore into Forest in the second half and showed the sort of determination so missing all season.
But it may be worth remembering that the east midlands outfit have ther worst away drfecord of any team in the four divisions with just one win at Southampton to their name since returning tho the Premier League.
And whilst we were as joyful as it's possible to be the opposition boss Steve Cooper was as angry as it gets as his team collapsed in the face of our seven minutes onslaught.
And he made no bones about his feelings in a post match interview when questioning his team seriously about their attitude.
He said: "We conceded a goal but then what happened is not acceptable.
"The game was taken away from us, it's our own fault and we have to face it.
"Conceding goals quickly was happening to us at the start of the season and we made poor decisions again.
It was a mentality thing and we were punished. There are no excuses."