Vladimír Coufal is one of the happiest members of the Hammers squad this morning having picked up his first piece of European silverware on the ground where he won two league titles during his time with Slavia Prague
That dramatic Jarrod Bowen goal and amazing assist from Lucas Paqueta ensured the No 5 can look forward to a victory tour around the east end.
That fabulous winner ensured a 2-1 win late in injury time and saw the Hammers hanging on to win a game in which  Saïd Benrahma's 62nd minute penalty had later been equalised.
Right back Coufal had a fine game but afterwards was clearly finding it difficult to take everything in as he joined the squad celebrations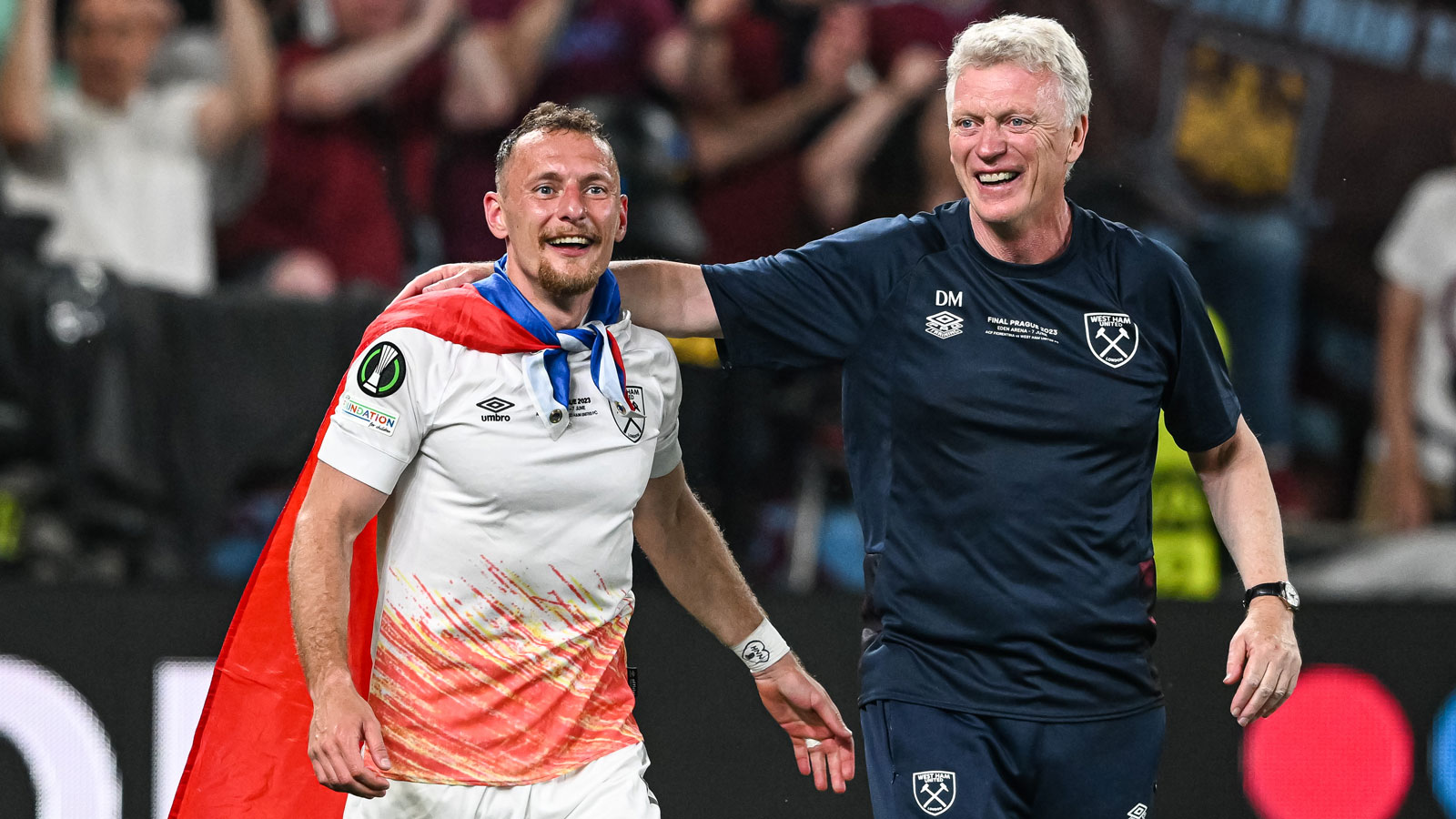 He said: "Wow! I am full of emotion. To celebrate at this stadium, where I won a lot of games, a lot of trophies [is amazing], but this is the special one.
"This is the European trophy. It means so much for me to lift it at this stadium. For the West Ham fans, I saw how dedicated they were when two days before the game, they travelled to Prague, even without tickets. So this is for all of them and we are making history now. The party is going!"
Bowen's goal was his sixth of a glorious l campaign and the crowning moment of West Ham's run to the title.
Coufal could not have been happier for his teammate, particularly with how dramatic the moment became.
"Jarrod has scored very important goals this year and our fans sing he is on fire, so it's absolutely perfect," he continued.
"We scored very late, so that makes it even better because they didn't have enough time to react from this goal.
"We have a beautiful group of players and to win this trophy, to lift it above our heads, was absolutely massive.
"I'm also really grateful for Declan because like I've said many times he's saved our season the way how we've played in the Premier League and all the years, so it's absolutely deserved for him and for everyone.
"I still cannot believe we won this trophy. It's absolutely amazing."
Thoughts soon turned to the celebrations, with an open-top bus parade in the diary for later on Thursday.
Coufal cannot wait to share the feeling with the Claret and Blue Army at home too.
"It won't just be one day of celebration, it will be madness and I'm really looking forward to bringing this trophy to London," he added.
"The open bus parade, is going to be amazing."