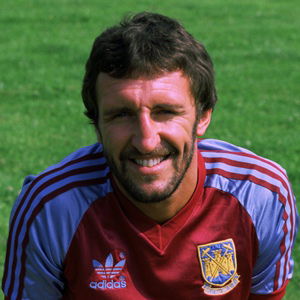 Former Hammer David Cross has explained players of his generation were never 100% and were no more than 85% at best and often carried a niggle or two as if they didn't play they wouldn't get paid as much.
In an hour-long special Moore Than Just A Podcast presenter Nigel Kahn interviews to David Cross about his time as a Hammer.
David told Nigel: You were never 100% you were always 85% upwards when you played, there was always something wrong with you!!
Cross explained: "We were very working class in terms of whether we should go on, if you had a niggle you played because if you didn't play your money wasn't as good. I was on appearance money and bonuses the same as a lot of the other lads and my wage could double from the basic if I was in the team and we won, that could double my money that week, that was a big difference in what the pay packet could be."
"We wanted to play, so you would play with the odd niggle. I did play alot of games over five seasons but it was only after I got injuries when I went to Man City and a couple illnesses that cost me when I was playing for West Bromwich Albion. I also had an injury when at Bolton which finished my career, I fractured my skull and that actually knocked the stuffing out of me.Any West Ham fan who watched me after that injury wouldn't recognised me as I wasn't the same player just really knocked the stuffing out of me completely."
You can listen to the full podcast at https://www.acast.com/moorethanjustapodcast/season7-episode8davidcrossspecial