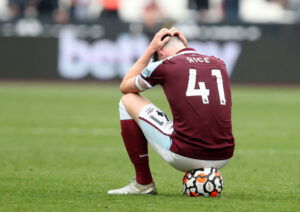 Declan Rice and the squad quite justifiably were gutted at the end of a game when they had fought bravely and clearly deserved a share of the spoils.
Instead they came away from old Trafford with nothing on the back of a goal which looked offside but which was allowed.
Whether it was or not is of course entirely immaterial now – we are out of the top four and Spurs lurking beneath us with four games in hand and others ready to take advantage of the situation.
David Moyes made a point of checking with the fourth official at the end but the late goal and the club's determination to meet their fixtures over the last few weeks with others crying off via covid has cost us dearly.
The captain could hardly have been more upset and spoke bitterly afterwards of how we had come to lose a match from which we obviously deserved something.
He said: "We're gutted. "It was a real kick in the teeth. We fought so well. There was very little in the game, so I think a draw would have probably been a fair result. 
"We're such a good counter-attacking side, and even when it was going to the latter stages of the game, we still had the energy to get forward.
"To end like that and get counter-attacked on in the last 30 seconds, and to concede a goal, was a real kick in the teeth.
"In the game against Leeds last week, we were too open, not how we usually are. We're a compact side and we don't usually let many teams in. 
"You could see that today. Manchester United didn't really create that many clear-cut chances. We knew we had to be compact and hard to beat, and until the last ten seconds, we really were."