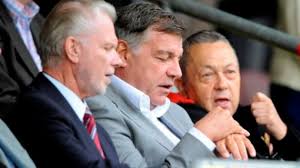 West Ham owners David Sullivan and David Gold have inherited the reputation of being the Premier League's safest employers.
They have regularly employed a non-sacking policy and see firing managers very much as the last possible resort rather than the first.
In a season when six of the clubs below them have replaced managers, they have stood firmly behind Sam Allardyce and now approach the acid end of season test – will he keep them afloat.
So just how hard is it for them to sack and when do they know the time has come to do so?
After a February revival of fortunes the club is again looking over its shoulder after away defeats against Everton and Stoke City.
And this weekend sees Manchester United arrive at what might prove either very easy or difficult for the Londoners at a defining moment in Reds history given their apparent numerous problems.
But regardless of the outcome Allardyce seems a fixture for the time being at least, given that he is nowhere near Gold's sacking fault line.
 Gold made it clear there was a very clear indication in people when the time had come for a parting of the ways.
He said: "Whether it's in running a business away from football, or in the game itself, there's a certainty by looking into a person's eyes.
"You see when they have lost it, when they don't know what to do next, when problems arise and they have no control over them. That's the time you know you have to say goodbye and you can tell by a look!
"It's never something to do lightly and it's never easy. I've done it in the past and I expect I will have to do it again at some point.
"But as the boss you also have heads of department and very often it becomes their responsibility."
Gold admits at no time has he seen the tell-tale signs in Sam Allardyce's eyes and that there was never any question of even loading the gun never mind firing it.
He said: "We have now lost a couple of games and my only thought for the moment is 'let's get safe.'
"I'm sure we will be ok and that the right person is in charge to ensure that's the case."